From today you can buy a new HomePod in stores. But that's not the only news to report this Friday. Because during the course of the week, a few more headlines caught my attention. And so there is a Sir Apfelot newsreel again today. This time it's about Apple and tech news from calendar week 5 of 2023. Among other things, these reports are included: almost collision of space debris, Netflix with details against account sharing, Twitter makes interfaces chargeable, dogs can swallow AirTags , foldable Apple devices from 2024 or 2025, and more.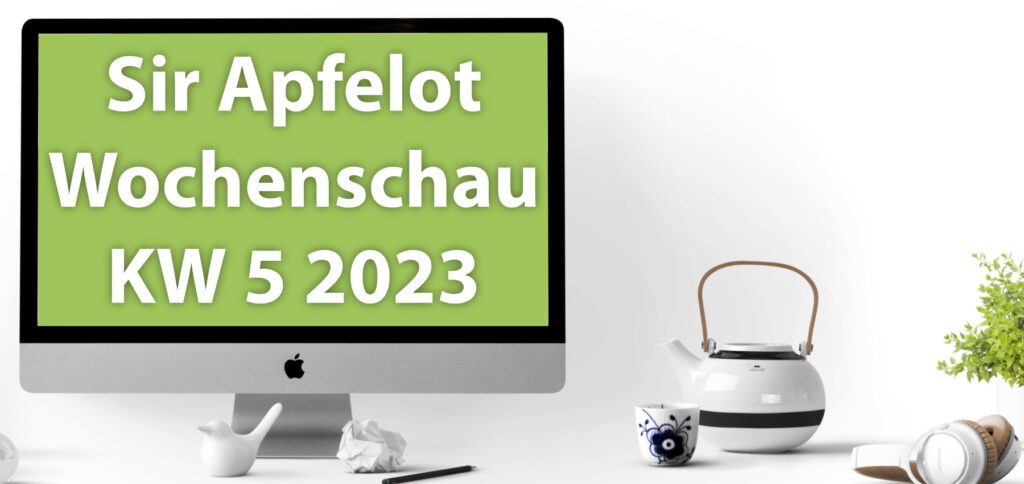 Space junk just barely missed the "worst case" scenario
How is it online this week has pointed out, according to the US company Leo Labs, two pieces of space debris just flew past each other at an altitude of 984 km. The relative speed of the Soviet rocket stage and the Russian satellite, which is no longer used, was 11 km/s and 39.600 km/h, respectively. A collision in this region of Earth orbit would have "catastrophic Folgen', as the source emphasizes several times. Because not only does the area escape direct influence, there are also around 160 rocket stages and the payloads of the rockets launched with them. So flying debris would hit other objects, trigger a chain reaction and possibly "practically empty the entire level".
Recommended reading: Amazon Project Kuiper – development, numbers and criticism
Federal Network Agency has withdrawn more than 2022 million products in 15
More than 15 million products are according to one press release removed from the market by the Federal Network Agency last year. There were various reasons for this: they did not meet the legal requirements, they could cause radio interference or they had significant formal defects. In addition to this individual consideration, the comparison with the previous figures is also impressive. Because in 2021, almost 23 million products were taken off the market. In the linked source there are further details on market surveillance in online and retail trade as well as information on cooperation with customs and tips for consumers.
Over 200 million paying customers on Spotify
Nachdem last week While the news of mass layoffs was still making the rounds at Spotify, a new (financial) milestone made headlines about the music streaming service this week. As several media reports, more than 200 million users are said to have subscribed. "At the end of the past quarter, the Swedish company said it had 205 million paying users", it is summed up in a current one Entry from hot online. The increase in subscriptions says, among other things, that around 20 million were added in three months. For the total number, i.e. everyone with and without a subscription, the milestone of 500 million is forecast for the current quarter.
Netflix is ​​working on the implementation of the blocking for account sharing
The so-called account sharing, i.e. the sharing of paid user accounts, is a thorn in the side of Netflix. Although family use in the same household should remain possible, access outside of the paying household should be a thing of the past as quickly as possible. This has been planned for a long time and also openly communicated by the streaming provider. Seems a bit too open lately. Because corresponding regulations, in which the implementation of WLAN controls were addressed, quickly disappeared from the Netflix website. Here's what iFun is showing this week: Here with information about the new procedure, and here to remove the remarks.
Twitter APIs are subject to a fee: bots and partial accounts are closed
Various Twitter accounts created by programming foxes and geeks that have used the previously free Twitter APIs may have to stop providing information, entertainment, or other useful services in the future. At least if they don't want to pay anything to use the interface. Because if you want to continue using it in the future, you should take out a monthly subscription – starting February 9, 2023 ( ). On some profiles, which are mainly powered by the API connection to Twitter, it is already written that there will be no more new posts soon - such as @iOSReleases.
Be careful when using AirTags on dog collars: they can be swallowed!
Putting an AirTag on your dog's collar or harness so they can be tracked in an emergency isn't a bad idea. At least if you have to reckon with the fact that he runs away. However, trackers from Apple (as well as from all other manufacturers) should not dangle from the collar or be easy to remove. Because this can lead to the AirTags being swallowed by dogs. Several cases have already been documented. If vomiting of the AirTag cannot be induced, then surgery may be necessary. The battery in the tracker or leaking chemicals can also injure the dog. More on this at heise online (German) and MacRumors (English).
Foldable iPad and MacBook models in the years to come
Apple is said to want to bring a breath of fresh air to its own range and to the market for foldable mobile and tablet computers in 2024 and 2025. As several media reported this week, a foldable iPad should appear in the coming year. And in the following year, a foldable laptop with a 20,5-inch display will be launched. The respective information comes from the analysts Ming-Chi Kuo and Ross Young. However, Young Kuo seems to disagree when it comes to the tablet. As is also said by Mark Gurman, there is no sign of a foldable iPad in 2024. Apparently, however, for the mobile computer with a complete display instead of a display, keyboard and trackpad. Sources: 1, 2, 3, 4
More Apple rumours: Bigger Apple Watch Ultra and HomePod mini 2
Several rumors were also passed around this week about other devices from the iPhone manufacturer. A future generation of the Apple Watch Ultra should have a 10% larger display than the first version of the professional smartwatch. The device with a 2,1-inch display should be presented in 2024. It is not yet clear whether this will be the second or third generation of the watch. It is not yet known whether an Ultra model will appear this year ( ).
And the HomePod mini will also be relaunched in 2024, they say. The coming year seems to be accompanied by many new or renewed products for Apple. Production of the new version of the small smart home speaker is scheduled to start in the second half of the year. This suggests that it will be presented again at an October event. At least when there are major changes - such as new sensors or better audio drivers. Otherwise, the presentation could be boiled down to a press release again. The info is again from Ming-Chi Kuo, and again there is disagreement from Mark Gurman. So there seems to be conflicting information in the analyst scene right now ( ).
Apple shows 30-minute film shot with the iPhone 14 Pro
"Shot on iPhone 14 Pro" is the title of the half-hour short film "Fursat" uploaded by Apple to YouTube. Vishal Bhardwaj's film contains a wide variety of scenes and moods - sometimes brightly lit, sometimes rather dark, sometimes in a calm composition, sometimes with fast movements or objects in motion. All of this should of course show how well the iPhone can now be used to create more or less cinematic films. Which brackets were used for certain camera angles, which audio equipment was used and what the post-production looked like is not shown in detail.
After graduating from high school, Johannes completed an apprenticeship as a business assistant specializing in foreign languages. But then he decided to research and write, which resulted in his independence. For several years he has been working for Sir Apfelot, among others. His articles include product introductions, news, manuals, video games, consoles, and more. He follows Apple keynotes live via stream.