It's Friday again and of course it's time again for the Sir Apfelot newsreel! This time I'll show you which Apple and tech news caught my eye in calendar week 50 of 2018. In addition to iOS and Apple Pay, Google+ and copyright are also included. Added to this is the pre-Christmas notice that there are still profits for readers of the Sir Apfelot newsletter gives. You can find more information about the remaining prizes of the Advent competition in the corresponding mail;)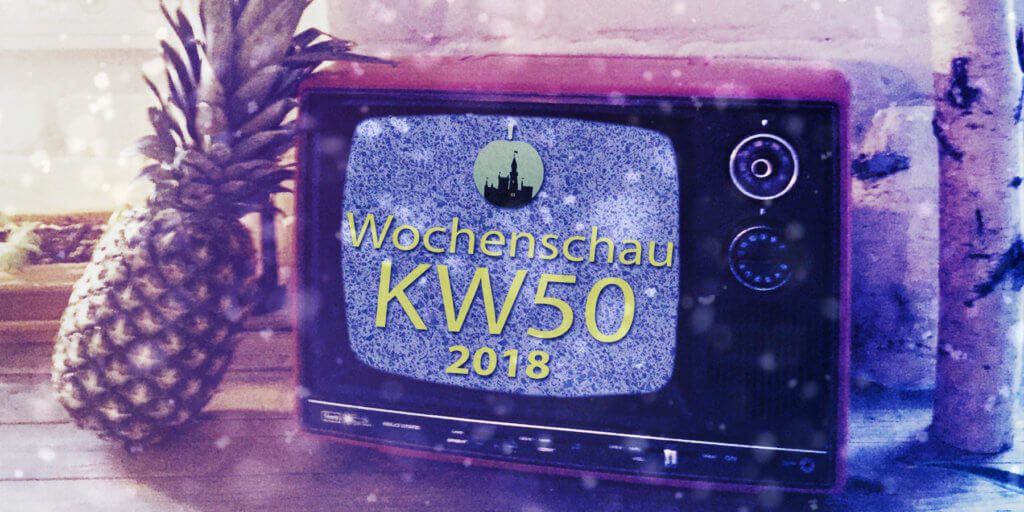 Copyright vs. censorship - petition against upload filters breaks records
With more than 4 million signatures, a current petition against "Article 13" and "upload filters" of the EU breaks the record for European campaigns on change.org. The petition platform gives this itself, among other things known on Twitter. Futurezone too berichtet on the great interest shown by European Internet users in a World Wide Web that does without unnecessary filters, alleged copyright protection mechanisms and censorship. To explain the upload filter it says:
Described in the draft itself as "content recognition technologies", they should ensure that content that contradicts copyright cannot be uploaded. This affects images, videos and audio material, but also quotes, text snippets and more.
Google+ is about to end sooner than expected
The Google+ platform was the search engine company's attempt to build its own social network, which was intended to pull private users away from Facebook as well as professional users from LinkedIn. However, there were no noteworthy successes for Google+. In addition, there were some bugs and other errors that not only made Google+ difficult to use (in addition to the sometimes non-intuitive use itself), but also caused data leaks. User data was temporarily (theoretically) accessible to third parties. Due to a bug that had just that episode, Google has now announced that Google+ will not be crushed until August 2019, but as early as April 2019. This is reported by MacRumors, among others at this point and iFun with this post.
Google searches in 2018
Google again ... As you know, the year is drawing to a close, and in the media circus that means one thing above all: looking back. The world's largest web search engine also shows what moved people in 2018. Has driven the app in one post corresponding top lists for the trends from Germany and the globe are published. While the "World Cup" was most frequently searched for worldwide, the abbreviation "WM" had the greatest or fastest increase in Germany. Followed by "Daniel Küblböck", whose name was brought back into public memory after his disappearance. Incidentally, the biggest headline of 2018 was highlighted by the search term "lunar eclipse". The linked article offers further trends and lists.
Philips Hue - update for better lighting control in the smart home
How different sources of App threats until 9to5Mac report, there is good news for users of Philips Hue, respectively a good update of the lighting control: From now on, the switch-on behavior of the lamps can be selected by yourself. The US source headlines this (translated): "Philips is finally correcting the most annoying thing about Hue lights". It is now finally possible for users to determine how the lamps should light up when they are switched on and off using the light switch. This eliminates the problem that each lamp started again with warm white after being disconnected from the mains (i.e. deactivated via a physical switch).
Atrial Fibrillation - Has the Apple Watch Saved a Life?
This question is posed by app dangers (here ) and 9to5Mac (here ). As a man reported on Reddit and then on US TV, his Apple Watch showed him abnormal heart activity after the update to watchOS 5.1.2 and thus after the activation of the new ECG feature. At 9to5Mac you will find statements from the man, which give further insights into his discovery with the Apple Watch as well as the subsequent examinations at the cardiologist. App Danger also offers the screenshot of his Apple Watch EKG and, for comparison, a photo of the printed cardiologist EKG. Interesting!
Apple Pay has arrived in Germany!
There are already some posts on the blog about the launch of Apple Pay in Germany. Among other things, this experience report: Apple Pay started in Germany - without the savings banks. There are also instructions for Set up Apple Pay on iPhone and Watch as well as a contribution with the List of participating banks. So if you are not a customer of a savings bank, but have your money managed by Deutsche Bank, Hanseatic Bank, N26 or the like, you're in luck. You can read in detail why the savings banks are cross-cutting in the linked experience report on Apple Pay. Here in a nutshell: Apple should open its NFC interface.
Instead of iOS 12.1.1: Better to wait for the 12.1.2 update!
Like MacRumors berichtet, Apple has already released the developer beta for iOS 12.1.2, which should bring some bug fixes and improvements. As an end user, you should also look at this version and, if necessary, wait with an update until it is available as the official version of the mobile operating system for iPhone, iPad and iPod Touch. Because like, among other things, Futurezone shows, the current iOS 12.1.1 can bring some unsightly bugs with it - namely a disruption of the mobile data connection. So if you have already made an update and are having problems with the internet on the way, it may be because of this.
Apple plans new campus in Austin - for $ 1 billion
For the US job market, Apple has brought out some good news. Among other things, a new Apple campus is to be built in the north of Austin, Texas. The project is scheduled to cost around $ 1 billion. In addition, several thousand jobs are to be created through additional locations in the USA by 2023. The Cupertino-based company is planning offices in Seattle, San Diego, and Culver City, among others. It is forecast that around 5 jobs will be created within five years. Further details on the projects and statements by CEO Tim Cook are available from 20.000to9Mac (here ) and MacRumors (here ).
After graduating from high school, Johannes completed an apprenticeship as a business assistant specializing in foreign languages. But then he decided to research and write, which resulted in his independence. For several years he has been working for Sir Apfelot, among others. His articles include product introductions, news, manuals, video games, consoles, and more. He follows Apple keynotes live via stream.