Update 14.12.2018: The article here was actually for an offer Amazon made about a week ago. There was the "PSVR Mega Pack" for about 329 EUR, which was a bargain price. Now Amazon has reduced the set again to 229 EUR, which brought tears to my colleague's eyes, who bought all the included elements individually for 475 EUR six months ago. Since I find this price reduction remarkable, I would like to point it out again at this point. If you are planning to enter the PSVR world, you should strike here urgently – it will only be cheaper if a seller makes a typo in the price. :D Delivery is currently even before Christmas!
PS Virtual Reality Set
The PlayStation Virtual Reality Mega Pack not only brings you the PSVR and all connections and cables for the PS 4, but also voucher codes for 5 of the best games currently available for this platform. So if you want to use your PlayStation 4 (Pro) to get started in the VR world over the winter, then go for it.
The PlayStation Virtual Reality Mega Pack brings you the PSVR glasses, the PlayStation Camera and five of the best VR games for the PS4 at a budget price. A PlayStation 4 is not included in the package and you also have to buy the Move Controller separately. However, PlayStation VR can also be used with the regular PS4 controller. So if you already have a Sony console of the current generation, then this set is ideal for getting started in virtual game worlds.
TL; DR: You can buy the set here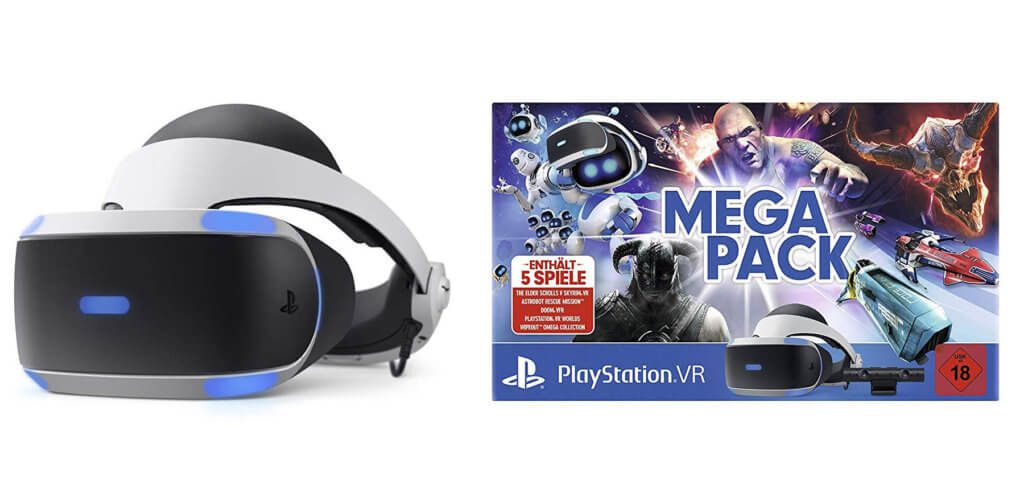 PlayStation Virtual Reality Mega Pack
The PlayStation Virtual Reality Mega Pack currently costs 329,61 euros on Amazon and has been available again since yesterday afternoon. So if you are quick, you can still place an order, which is blessed with a delivery before Christmas;) If you are wondering whether the price is good and the set would be considered cheap, I would like you to comment on Holger on the way, which already helped me with this article: The best games for the PlayStation VR from Sony - my personal top list. Here is his assessment of the package:
In May I only paid 300 euros with VR World in it. Now there are also:
Skyrim VR -> currently costs 69,99 in the Playstation Store.
Doom VFR -> currently costs 29.99 in the Playstation Store.
WipeOut Omega -> currently costs 34.99 in the Playstation Store.
Astro Bot -> currently costs 39.99 in the Playstation Store.

So I would have paid a total of 475 at the price of May. Just 199 euros for the normal bundle is a real bargain.
This is in the Sony PlayStation VR Mega Pack
The scope of delivery includes connection cables, HDMI-Cables, USB cables, power cords and such things mainly contain these elements that will let you enter the world of VR games:
VR headset (including cable, processor unit, etc.)
Stereo headphones
PlayStation Camera
Voucher for PlayStation VR Worlds
Voucher for The Elder Scrolls V: Skyrim VR
Voucher for Doom VFR
Voucher for Astro Bot: Rescue Mission
Voucher for WipEout Omega Collection
Why the set comes with FSK 18+
While Astro Bot is a really kid-friendly game and Skyrim and VR Worlds are not only aimed at adult audiences, something like DOOM is of course always an FSK title. So you can buy the set with confidence if you want to discover virtual reality together with your children - however, depending on your age, you shouldn't necessarily play all of the included titles with them;)
You can / should buy that (PS4 and Move Controller)
As already described above, this is an accessory set that is limited in scope. You can use the current console, the Sony PlayStation 4 Pro view and buy with this link. You can find the PlayStation Move motion controllers (in the 2018 version) recommended for the VR experience with this link. According to the Amazon product page, they will be available from December 12, 2018; so arrive before Christmas. Slightly more expensive, but available directly these models. For shooter games, in which there is a lot of shooting, there are also the so-called Aim controller.
Your opinion on the PlayStation Virtual Reality Mega Pack
What do you think of the PlayStation Virtual Reality Mega Pack for the PS4 (Pro)? Is that an incentive for you to get started with the VR experience with the console? Or are you waiting for an even cheaper price? Feel free to leave your opinion on the product, the individual games and the technology in general as a comment! Also with other great games, tips and tricks;)
Jens has been running the blog since 2012. He appears as Sir Apfelot for his readers and helps them with problems of a technical nature. In his free time he drives electric unicycles, takes photos (preferably with his iPhone, of course), climbs around in the Hessian mountains or hikes with the family. His articles deal with Apple products, news from the world of drones or solutions for current bugs.
The page contains affiliate links / images: Amazon.de