For today's Monday there is not only that Sound core mini 3 as a new product, but also daily and weekly offers from the manufacturer Anker. These include plenty of charging accessories in the form of power packs, cables, power banks and the like with a discount of up to 40%. There are also two weekly offers: a conference Bluetooth speaker and a regular Bluetooth speaker. If you are looking for a small, compact version, the new Soundcore Mini 3 from Anker might be something for you. The IPX7 water-resistant box offers up to 15 hours of battery life, a USB-C port, Bluetooth 5.0 and more. You can find all the details below.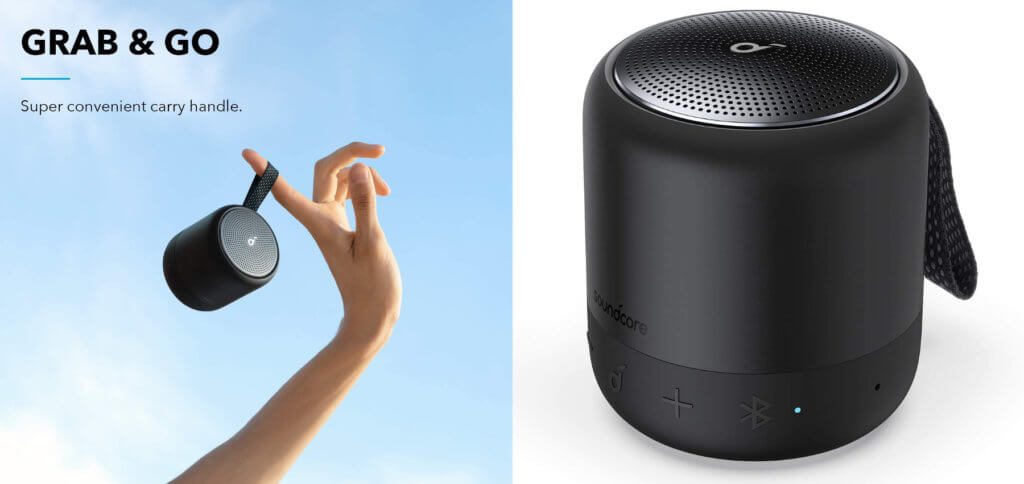 Anker Soundcore Mini 3 - small Bluetooth box with 6 watts
The new Anker Soundcore Mini 3 Bluetooth speaker has been available in Germany since Monday, September 21, 2020. The loudspeaker equipped with Bluetooth 5.0 offers a battery with 1.800 mAh nominal capacity and up to 15 hours of running time. The 6-watt driver ensures a decent output of music, audio books, podcasts and more. The charging time via USB-C is only 3 to 4 hours. The device's wrist strap can also be used to hang it anywhere - on the bed, in the shower, on the bike and so on. With a diameter of 7,2 cm and a height of 8,4 cm, the Anker Soundcore Mini 3 also fits (almost) anywhere. The price is 35,99 euros.
Anchor daily offers for September 21, 2020
At Amazon today you get the following anchor products with up to 40% discount. You do not need any voucher codes or the like for this. The discount is granted directly on the product pages. And you can get to them via the following links:
Anchor weekly offers until September 27, 2020
Also from today, but until next Sunday, you will get two more Anker products for less. There is a whole 25% discount on the Anker PowerConf S3 Conference loudspeaker who for 89,99 euros instead of 119,99 euros is offered. There is also a 28% discount on the Soundcore Flare Mini Bluetooth speaker that for 28,99 euros instead of 39,99 euros is offered. Here, too, you do not need a voucher code or the like. Have fun shopping and saving;)
All statements without guarantee; Changes possible
Jens has been running the blog since 2012. He appears as Sir Apfelot for his readers and helps them with problems of a technical nature. In his free time he drives electric unicycles, takes photos (preferably with his iPhone, of course), climbs around in the Hessian mountains or hikes with the family. His articles deal with Apple products, news from the world of drones or solutions for current bugs.
The page contains affiliate links / images: Amazon.de