StilGut and Sir Apfelot, this combination not only sounds beautiful, but also brings you wonderful products home free of charge; with our StilGut competition. How you can take part in the competition, what you can win and all further information can be found below. I wish all participants the best of luck;)
Update 18.01.2017/XNUMX/XNUMX: Reading questions carefully has advantages
So far there has been a good number of participants who have registered by e-mail with answers to the questions asked below, their wish to win and their address. With the last submissions, however, it is noticeable that answered only two of the three questions correctly - it was always the same mistake to be recognized. So if you are here because a page or a friend sent you the supposedly correct answers, Dann read the questions again yourself ;)
There's something to be won: tempered glass film, iPhone docking station and 10.000 mAh power bank
So that you already know whether participating in the competition is worthwhile for you, I would like to introduce you to the three prizes for the time being. These are high-quality and functional products that are anything but frills. If 3D curved armored glass film, which adapts ideally to the iPhone 7, iPhone 7 Plus or another smartphone, the shapely iPhone docking station for iPhone 5 to iPhone 7 Plus or the StilGut Power bank with 10.000 mAh: every win enhances your mobile all-purpose device!
Tempered glass 3D curved for iPhone 7 and other smartphones
The first product you can win will protect the display of your smartphone from knocks, bumps and scratches. The unique design of this tempered glass film ensures that the entire front of the phone is protected - including the rounded corners!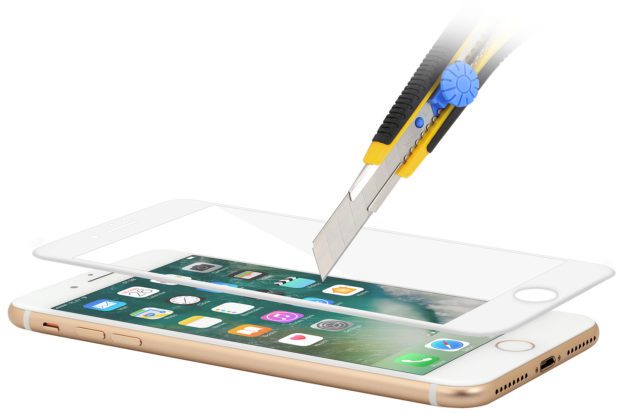 In addition to the protective film for the iPhone 7 or iPhone 7 Plus, there are also models for Android devices. You can find an overview of all offers in the official Online-Shop. Please indicate your desired model in your participation email.
iPhone docking station for iPhone 5, 6, 7, the Plus models and so on
The minimalist docking station with Lightning connector is ideal if you want to charge your iPhone but still want to leave it upright. For example, the oval station made of aluminum is suitable for video telephony or simply for stylish charging of the battery.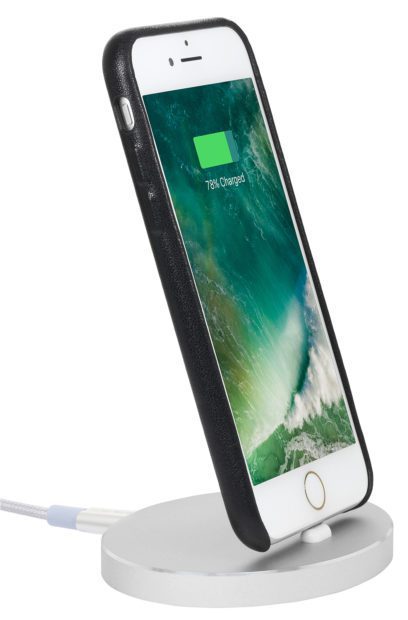 The iPhone docking station is designed in such a way that you do not have to take the iPhone out of the case or the case that protects it. StilGut lives up to its name here. If you want this product to be delivered to your home free of charge, just take part in the competition described below;)
Power bank with 10.000 mAh and Qualcomm Quick Charge 2.0 technology
Whether iPhone, iPad or other mobile devices whose batteries can be charged via USB or Lightning: with this one smart power bank from StilGut you can charge these devices quickly, multiple times. Because 10.000 mAh is enough for many smartphones - and especially for the individual iPhone models - for several full charges.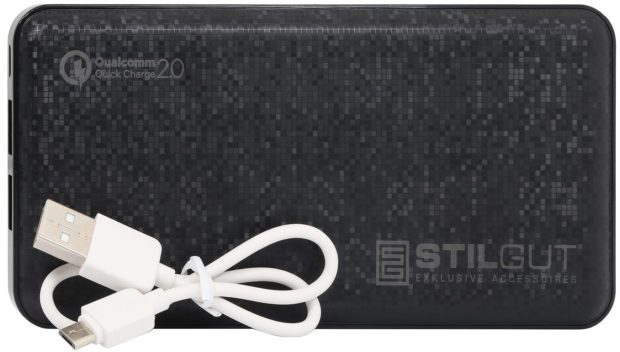 The power bank has a powerful lithium polymer battery that promises constant charging power. In addition, this external battery for smartphones and tablets holds its energy for months, making it an ideal companion on longer trips. With a capacity of 10.000 mAh, it can also be carried in hand luggage when traveling by air.
Important information about the prices of StilGut
The competition prizes are not a first, second or third place. If you take part in the competition, just indicate which product you would most like to have. Please note that the protective film is only available for the smartphone models listed in the official shop. If two winners would like the same product, we reserve the right to draw the fulfillment of the request and allocate it on the one hand and determine a replacement prize on the other. But now we come to the competition itself ...
The StilGut competition: simply answers three questions!
Here I would like to ask you the three questions that need to be answered in order to win the three StilGut products. Further information on the competition and the legal information will follow below.
Question 1: When was the oldest currently available blog post by Jens (aka Sir Apfelot) published? (Note: this is also about protective films)
Question 2: What are the three main markets (countries) that StilGut claims to serve? (Note: Many companies provide information on their website "About themselves")
Question 3: How long has Sir Apfelot been an "Apple knight out of passion"? (Note: look around carefully)
Legal notices and further information on the competition
Entry deadline: The competition runs until February 15, 2017.
Participation and chances of winning: Participation is valid with the first complete email from the sender (form and content see below). Submitting the data multiple times does not increase the chances of winning. Excessively frequent sending of participation emails leads to exclusion from the competition. (So ​​just send a mail, then everything is cool;))
Drawing of winners and prizes: The drawing of the winners and the desired or alternative allocation of prizes will take place on February 16, 2017. The winners will be informed by email and another blog post will also provide information on the outcome of the competition (details see below).
This is how the winners are determined: In the classic way, if there are more than three participants (with the correct answers to the questions asked), all of them are written on pieces of paper, folded and thrown into a container. Then it is shaken and finally three pieces of paper are drawn - these are the lucky winners. If there are only three participants with correct answers, then the winnings will be allocated as requested or alternatively (see below) without a draw.
Not enough participants and extension of the competition: If at least three participants with the correct answers to the questions asked do not respond by February 15, 2017, the competition will be extended. The other points of the competition remain unaffected.
Possible costs: The judges' decision is final, any costs incurred for participating in the competition (such as mobile phone costs or dial-up costs for submitting the answers) will not be reimbursed.
Replacement for winnings: It is not possible to pay out the equivalent of the prizes, only the prizes described here will be sent to the winners.
Privacy policy for participants: Participants submit the answers and their address johannes_domke@sir-apfelot.de a (form see next point). If there is a win, the data required for the dispatch (name and address as well as prize wish or prize allocated) will be transmitted to StilGut. StilGut takes care of the shipping. Neither Sir-Apfelot.de nor the StilGut company will use the transmitted data beyond the competition. By participating in the competition (submitting answers and address), the participants also agree that their names and their place of residence (example: "Max M. from Musterstadt") with the product won will be mentioned in another entry.
Form and content of the subscriber message: Please send a clear message with the Answers to the three questions asked as well as your address and the indication of the desired prize to the above email address. You are also welcome to post a comment under this post, in which you inform us that an email has been sent - that way I know and I can react if an email does not arrive. Please do not post the answers or your personal information as a comment.
Participation only from the age of 18: Our readership is - as I have noticed - mostly of legal age. We also want to keep the competition as legally simple as possible. We therefore ask you to only take part in the competition if you have already reached the age of 18. If necessary, evidence is required; by participating in the competition, this point is awarded. (Thank you for understanding!)
Equal opportunities for all participants: The purchase of products (from StilGut or via the links on Sir-Apfelot.de) or the registration for the Sir Apfelot newsletter or other measures do not lead to an increase in chances in this competition.
Good luck and have fun with the StilGut competition
Phew, the legal stuff is extensive, but still necessary. Did you fight your way through and also the right answers to the questions asked? Then take part in the StilGut competition and win a tempered glass protective film, a docking station for the iPhone or a power bank with 10.000 mAh! Do not forget to provide your participation e-mail with the answers, your full address and your wish to win. Good luck! :)
After graduating from high school, Johannes completed an apprenticeship as a business assistant specializing in foreign languages. But then he decided to research and write, which resulted in his independence. For several years he has been working for Sir Apfelot, among others. His articles include product introductions, news, manuals, video games, consoles, and more. He follows Apple keynotes live via stream.