I recently searched for the Google Nest Wifi mesh devices and I'm on the tink Bumped into shop. After taking a closer look at the online shop, I decided to treat him to an article. On the one hand, because it is one of the few shops that sell Google Nest Wifi devices, and on the other hand, because the selection in the shop is quite well thought out. In the following you will find some information about the tink shop, the smart home brands in the range and how this comes about in the first place.
TL; DR: You can go directly to the shop page here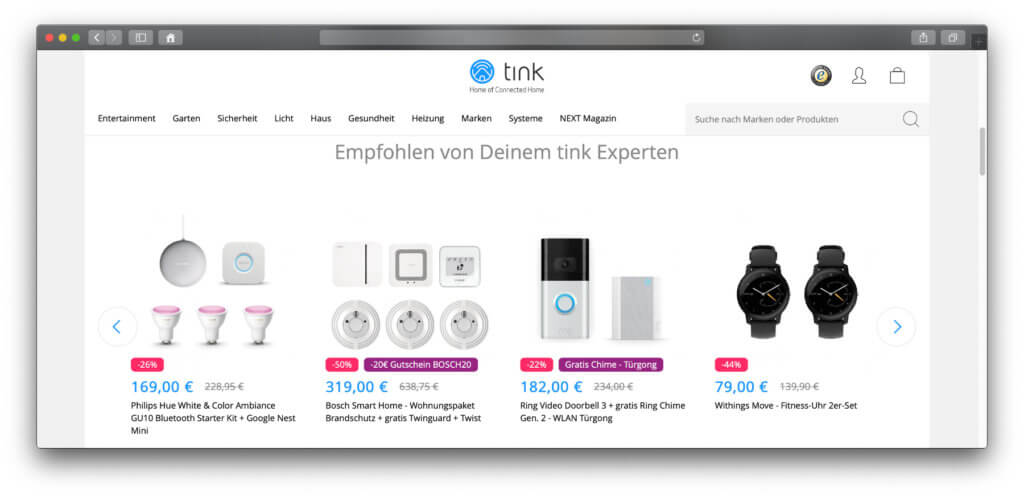 The advantages of the tink online shop
Instead of offering the broadest possible portfolio, as can be found in many other shops from MediaMarkt and Saturn to Expert and EP, the operators of tink only select products that they have tried out themselves and found to be good. And despite this exclusive selection, the prices are also pleasant. The "Google Nest" products, for example, actually cost less than directly from Google (albeit only a few euros).
In addition to Google products, there are many other brands for smart homes: Sonos, Philips Hue, tado, Bosch, ring, homematic, Apple, Gardena, innogy, eve, LG, Netatmo, AVM, harman / kardon, D-Link , Nuki, Fitbit, Marshall, Netgear, Sony, Abus, Osram, Devolo, etc. So there is something for everyone. It is very easy to keep track of things. Because you can browse through the categories of entertainment, garden, security, light, house, health and heating.
tink - offer according to brands and system worlds
In addition to the brands mentioned above, there are a few more that you can display in alphabetical order on the shop page. For example, JBL, Blaupunkt, AEG, Panasonic, Withings, Yeelight and also lesser known, smaller manufacturers are added. But maybe you are not yet ready to look for specific devices or manufacturers, but want to create a basis for your smart home first. That is also possible at tink.
There is the menu item "Systems" for this. Since you are here in an Apple blog, the point "Apple HomeKit" should of course be particularly emphasized. But you can also find offers for the Google Assistant and Amazon Alexa at tink. There are also Samsung SmartThings, Bosch Smart Home, innogy SmartHome, Magenta Smart Home from Telekom and OPUS. So whatever you're interested in, you'll get everything here - and at a reasonable price.
To the tink shop: Here you can get your own picture
The tink NEXT magazine
As an Apple fan you naturally listen up when something is called NEXT: D In the case of the tink shop, however, it is not the next computer company to be bought by Apple, but a specialist magazine in the form of a blog. I already mentioned above that only products that have been found to be good and useful by the shop operator make it into the assortment. In the tink magazine "NEXT" you can get the corresponding test and experience reports, instructions and news.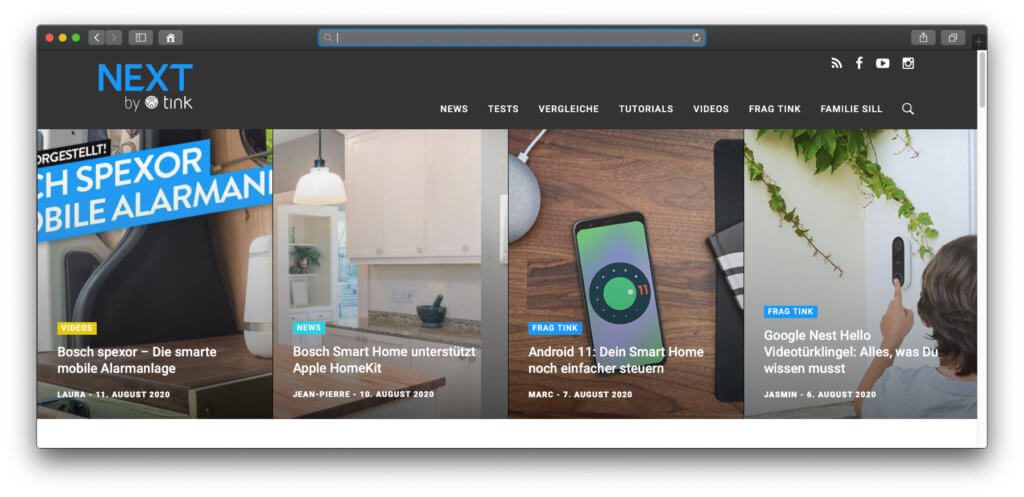 How do you control the smart home even more easily under Android 11? What do you have to know about the Google Nest Hello video doorbell? Which smart speakers are best for combining with the Google Assistant? These and other questions will be answered. For a better overview, there are also categories here: news, tests, comparisons, tutorials, videos, Frag tink and the Sill family (a kind of unboxing web series).
My conclusion on the tink shop
Behind the tink shop there are all sorts of people in a large team - and you can see that. The well thought-out shop doesn't just offer a bunch of devices with boring data sheets, but real experiences behind the offers. On the product pages you will also find a video, experience reports and really matching accessories for the smart home. The NEXT magazine creates an even better understanding of the topic. All in all, a well-rounded and recommendable offer. If you are now inspired to pay a visit to the tink shop, please use one of the affiliate links installed above. Thanks :)
Jens has been running the blog since 2012. He appears as Sir Apfelot for his readers and helps them with problems of a technical nature. In his free time he drives electric unicycles, takes photos (preferably with his iPhone, of course), climbs around in the Hessian mountains or hikes with the family. His articles deal with Apple products, news from the world of drones or solutions for current bugs.