Today Equinux announced that the popular tizi gas station is now available in a USB-C version. However, only with a USB-C output, which has a lot of power with 29 watts. The tizi petrol station can therefore be recommended as an alternative to the more expensive Apple USB-C power supply, which can also charge various devices with 29 watts. Basically, you can also charge iPhone, iPad and even the large iPad Pro with 12,9 inches with a USB-C to Lightning cable. According to the manufacturer, the large iPad Pro with this charging plug can be filled in half the time - compared to the USB power supply that Apple comes with with this iPad Pro. A decent time saver, based on the fact that the Apple power supply definitely has too little power for the device.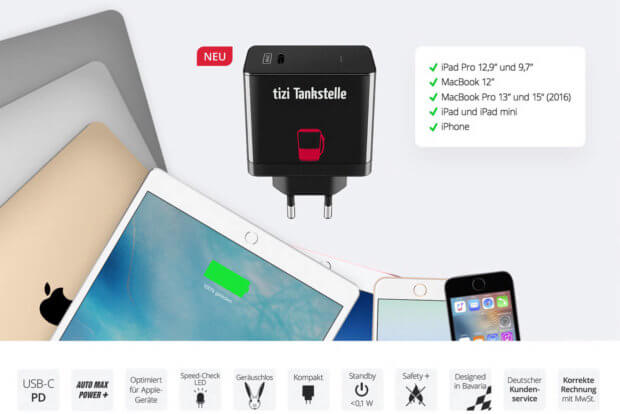 Suitable as a charger for MacBook and MacBook Pro 13"
The tizi gas station with USB-C output is definitely suitable for charging the MacBook or the small 13 inch MacBook Pro. For the 2016 MacBook Pro with 15 inches, however, I would use another device with more power, since the original Apple power supply with 87 watts can deliver almost three times the power. With the tizi gas station you would be able to charge the MacBook Pro 15 inch via USB-C, but it would take an inconveniently long time.
Despite this restriction, I think the concept of the tizi petrol station is a success. It is a small charger that is optimized for Apple devices and also shows via an LED display whether fast charging is active.
Economical: Low standby power consumption
Equinux specifies the power consumption in standby as "less than 0,1 watts". This is very important to me personally as most of my chargers stay plugged in all the time. If necessary, I simply plug in my iPhone, iPad or MacBook and let it charge. The Apple power supplies are always very good in this regard.
Summary
If you are considering whether you should buy the 29 watt Apple power supply, you can safely get a significantly cheaper device with the tizi gas station, which certainly does not require any compromises in terms of quality. Made in Germany. ;-)
I myself use the tizi petrol station with the 4 USB charging ports. I am completely enthusiastic about the handling and the loading time. My devices charge quickly on this and the USB filling station impresses me with its very low standby power consumption.
Jens has been running the blog since 2012. He appears as Sir Apfelot for his readers and helps them with problems of a technical nature. In his free time he drives electric unicycles, takes photos (preferably with his iPhone, of course), climbs around in the Hessian mountains or hikes with the family. His articles deal with Apple products, news from the world of drones or solutions for current bugs.
The page contains affiliate links / images: Amazon.de