At the Apple dealer MacTrade you can get up to € 28 discount on selected Mac models until November 2019, 300. This price reduction can even be combined with the 5% education discount for schoolchildren, students and teachers. In this little article I have summarized which Apple computers you can still get cheaper by the end of the month and which other advantages of the retailer you can take advantage of. Of course, I've also looked at the fine print for you guys.
TL; DR: Here you go directly to the dealer page.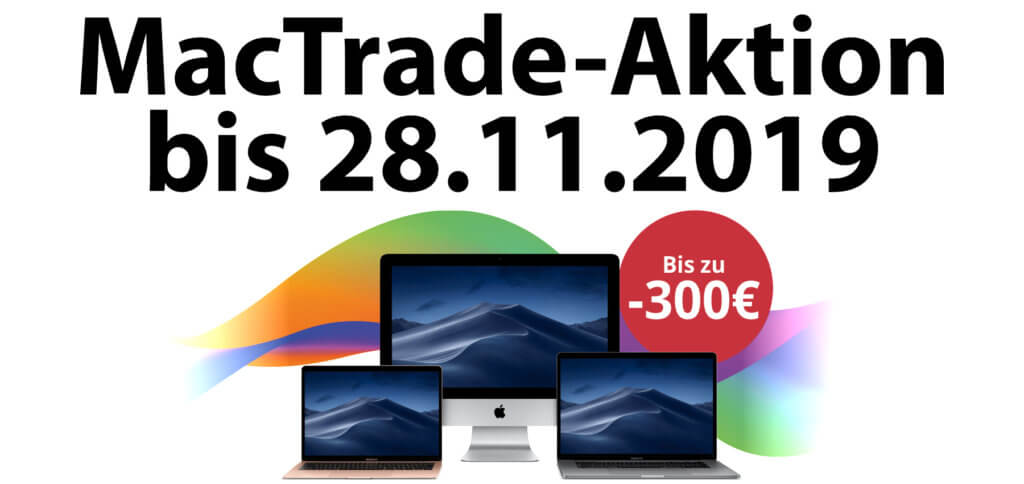 You can get these Mac models cheaper
According to MacTrade's fine print, the following Apple computers are eligible for the promotion: MacBook Air 2019, MacBook Pro, iMac and iMac Pro. Other Apple devices such as MacBook Air 2017, MacBook Air 2018, Mac mini, Mac Pro, Apple TV, iPad, iPhone and so on are excluded from the promotion.
This is how the discount for the MacTrade campaign is calculated
As you could already read above, there is not a discount of 300 euros per se for every qualified device; but "up to" this amount. How much discount you can expect exactly depends on the purchase value of the computer and the chosen payment; immediately as a whole or in the future via financing. You can find information about the best financing at MacTrade under the next subheading. First of all, here is the discount table:
| | | |
| --- | --- | --- |
| Value of the Mac (s) in the shopping cart | Discount on payment (all payment methods) | Discount on financing (all terms) |
| 700 - 900 € | 50 € | 100 € |
| 1.000 - 1.499 € | 75 € | 125 € |
| 1.500 - 1.999 € | 100 € | 150 € |
| 2.000 - 2.999 € | 125 € | 175 € |
| 3.000 - 4.999 € | 150 € | 200 € |
| from € 5.000 | 200 € | 300 € |
Finance promotional Mac: Only 12 months of running time are really worth it
If you want to finance your new MacBook or the new iMac in order to pay it off in small bites over a longer period of time, then you can also do so in connection with the described action at MacTrade. For terms of more than 12 months, you should calculate whether it is worthwhile or whether you will not (partially) lose your discount due to the interest.
With a term of exactly one year, on the other hand, you benefit from the 0% financing without interest. That is why this is particularly worthwhile. To the dealer page and thus to the campaign, to all information about buying, financing and Co. as well as other offers you come with this link. Did you find something suitable there? Then leave a comment;)
Jens has been running the blog since 2012. He appears as Sir Apfelot for his readers and helps them with problems of a technical nature. In his free time he drives electric unicycles, takes photos (preferably with his iPhone, of course), climbs around in the Hessian mountains or hikes with the family. His articles deal with Apple products, news from the world of drones or solutions for current bugs.