Today something on my own behalf ... I would like to sell a used set consisting of a USB microphone, studio headphones, microphone holder and microphone spider. I bought the set about a year ago because one of my customers asked me if I could add music to a few YouTube videos for him. After a consultation with a competent salesperson at Thomann, this compilation was recommended to me, which I then bought:
Rode Podcaster (USB speaker microphone including A / D and D / A conversion in the microphone and adjustable headphone amplifier)
Røde PSM1 (spider for podcasters)
Røde PSA-1 (table microphone arm)
BeyerDynamic DT-770 PRO / 80 Ohm (studio stereo headphones)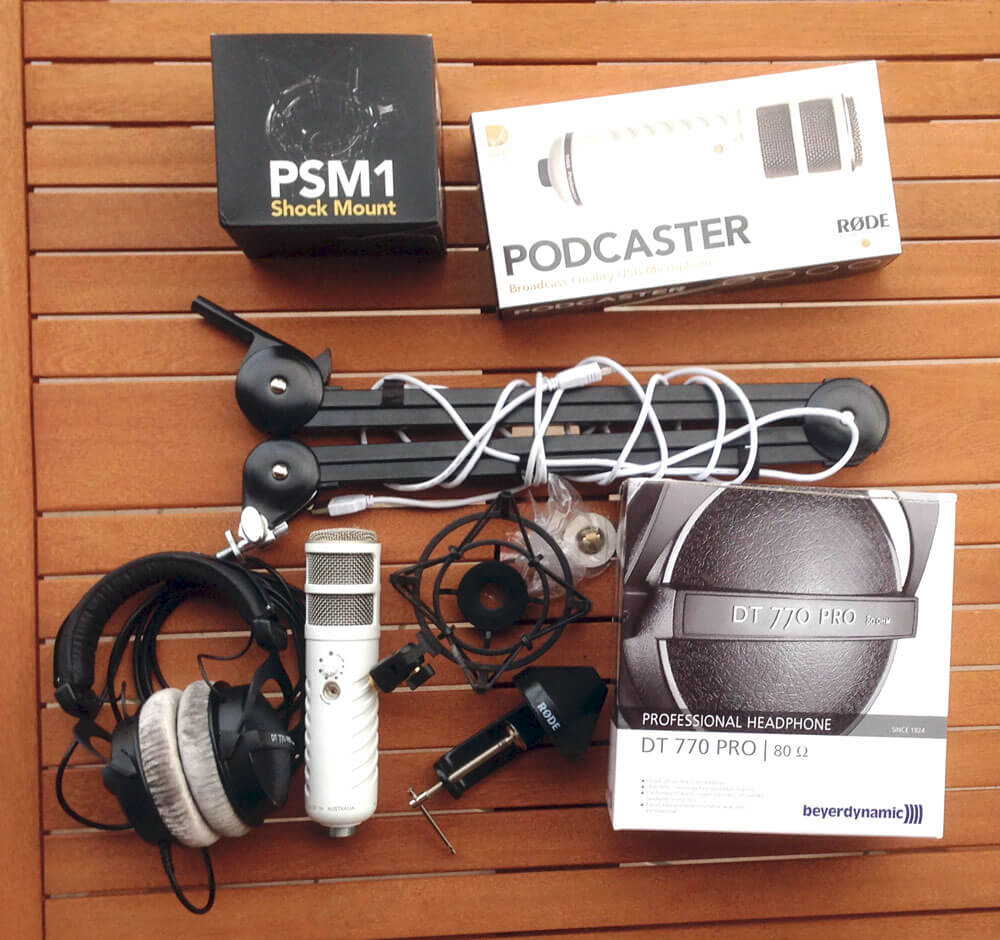 The complete set cost 448 EUR and unfortunately I didn't even use it because my customer solved the matter differently. Now that I have no use for the equipment, I would like to sell it used. The original packaging is still present, as you can see in the photo. I can also issue a VAT invoice. exhibit. I want the complete set for 350 EUR including shipping and VAT. to sell.
The equipment is also very suitable for someone who wants to produce a podcast and is looking for the right USB microphone and good headphones. Incidentally, the headphones with an impedance of 80 ohms were chosen for connection to the headphone amplifier in the Røde Mikro. Since it is operated via USB, it does not have as much output power, which is compensated for by the higher impedance of the headphones.
The USB microphone, for example, can be used with Logic Pro use on the Mac and thus realize the audio recordings. The headphones are there for "listening in" and work without latency on the connection of the headphone amplifier, which is built into the Røde Podcaster (this is also adjustable).
If you want to look at the things at Thomann.de, you will find the complete description from my order at the time:
001.00 BEYERDYNAMIC DT-770 PRO / 80 OHMS
Studio stereo headphones, dynamic, closed, 80 ohms,
5-35.000 Hz, circumaural, diffuse field equalized, 270g,
incl. connection cable (smooth) with 6.3mm-KLI
Item number: 174334, Quantity: 1 pc
002.00 RODE PODCASTER
USB speaker microphone with a dynamic
Large diaphragm capsule, A / D and D / A conversion takes place in the
Microphone, adjustable headphone amplifier with 3,5mm
Item number: 108688, Quantity: 1 pc
003.00 RODE PSM1
Spider for Podcasters, NT1-A, NT2-A, NT1000, NTK, color: ...
Item number: 110864, Quantity: 1 pc
004.00 RODE PSA-1
professional table microphone boom, for broadcasting, podcasters,
Pro and Broadcaster, 3/8 ″ thread, loadable up to 2 kg, um
Can be rotated 360 degrees, including table mounting accessories: screw clamp
Item number: 114512, Quantity: 1 pc
If you are interested, please send me a short email: kleinholz@net-tec-online.de
Jens has been running the blog since 2012. He appears as Sir Apfelot for his readers and helps them with problems of a technical nature. In his free time he drives electric unicycles, takes photos (preferably with his iPhone, of course), climbs around in the Hessian mountains or hikes with the family. His articles deal with Apple products, news from the world of drones or solutions for current bugs.