When developing video games, you have to differentiate between large studios with extensive teams in different departments and indie developers in small groups or as loners. This distinction gives you an idea for the answer to the question: What does early access mean for a video game? Here you will get the right answer - not only with regard to the term "Early Access", but also with regard to the procedure and its advantages for everyone involved.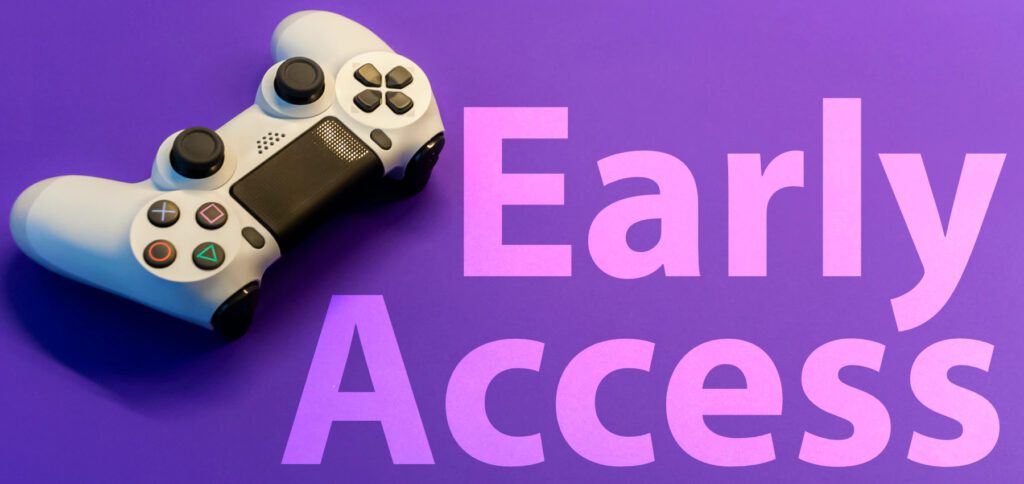 What is early access in video games?
Early Access can be translated as "early access". This means that players have access to previous stages of development even before the finished game is published. It can be one alpha version (Basic framework, in which essential content may be missing) or a Beta version (nearly complete version that needs polishing).
It's not uncommon for a game to be in the "Early Access" stage for a long time, moving from alpha to beta through constant updates that feed more and more content. In short: Early Access for video games means that a game is made available before the final version 1.0 is released.
Why are games sold in Early Access?
As already mentioned, there are several advantages for individual developers and indie developers by releasing Early Access titles. On the one hand, they can have their software tested by many people and thus obtain extensive feedback. Big studios have other methods available for big testing, which is one reason they don't release Early Access releases.
There is another advantage for indie developers: money. Because if everything is paid for out of pocket, then the sale of advance versions of the planned game helps all the more. And players are happy to be able to test the expected game early and save less compared to the later release price. For example, on Steam from Valve there are always early access video games.
Why don't major development studios release Early Access versions?
Why Big Game Developer Studios Don't Release Early Access Versions of Their Games? There are several reasons for that. On the one hand, they themselves have the opportunity to carry out extensive tests on their alpha and beta versions. In addition, they do not need the income to finance the projects.
Furthermore, the competition cannot use ideas and techniques if they are not made public by the time the product is released. And last but not least, habit also plays a role: Because even before the Internet and before game downloads, "Golden Master" versions (complete, error-free releases) for modules, CD-ROM and DVD-ROM had to be created without public tests be able.
Personal opinion on games in the "Early Access" version
I usually only buy games when they are available as a finished release. It's clear that they don't always work correctly - see Cyberpunk 2077 most recently. A very stable game that runs smoothly in the existing functions, which I'm currently happy to throw at it, is Core Keeper.
Core Keeper is in Early Access, can be purchased on Steam and is constantly evolving. There were even special events at Easter and to celebrate spring. I'm excited to see what content, quests and modes will be added and what the finished game will look like. As a tester and in terms of developer support, I think Early Access is great for this example! (Status: June 2022)
After graduating from high school, Johannes completed an apprenticeship as a business assistant specializing in foreign languages. But then he decided to research and write, which resulted in his independence. For several years he has been working for Sir Apfelot, among others. His articles include product introductions, news, manuals, video games, consoles, and more. He follows Apple keynotes live via stream.