Word Guru is a free words game for iOS on the Apple iPhone, iPad and iPod Touch. The aim of the game is to form individual words from the given letters. What sounds simple can certainly make you ponder, as many combinations can usually be made out of just a few letters. Word Guru is challenging and fun when you have cracked all the solutions to a riddle. The word guru solution for individual levels can also be found together - either when playing together on one device or when using the "ask friends" feature. There is no real online mode.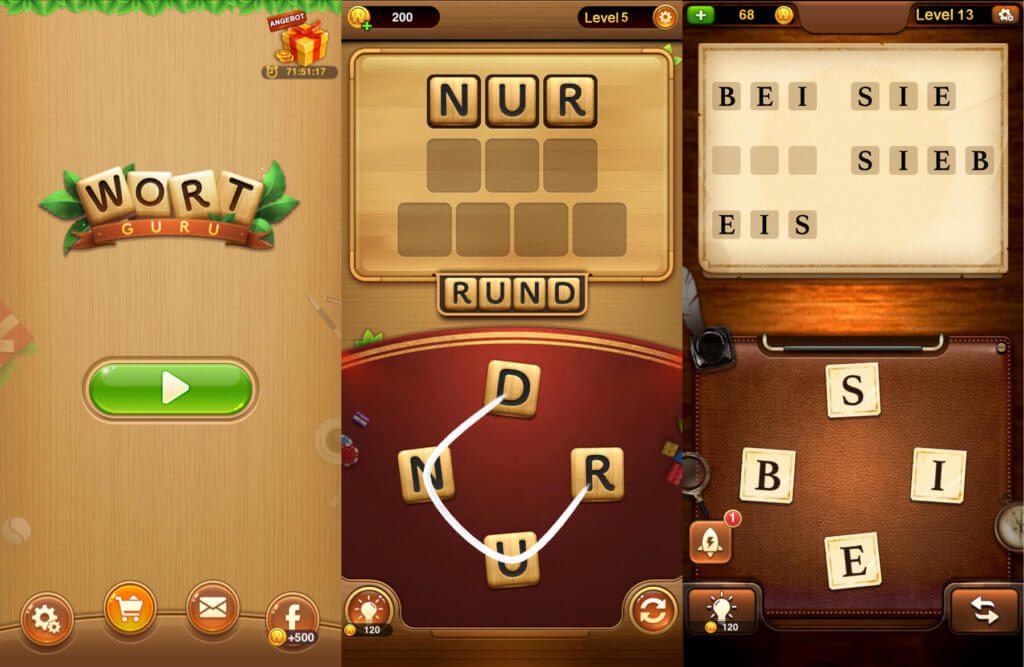 Word Guru - packing letters into words
The game Word Guru is about bringing individual letters into a new order level by level, so that different solutions emerge. From the letters E, I and S, for example, solutions such as ES, SIE, EIS and SEI can be made. Sometimes the word guru can lead you astray if a seemingly correct solution is not correct. For example, if you have given the letters F, O, R and T, then the simple word FORT is more in demand than the term TORF. In early levels, an additional solution is shown as incorrect. Later it is put in the "price box", in which it can be exchanged for coins (see below).
The word games get more difficult level by level and you have to find new combinations with the given characters. All game chapters and levels are in German. Every now and then there are even special characters like the ß. As far as I got in the test, there were only simple solutions such as hot, hot, called and also marriage. But the further you get, the trickier the puzzles get. And if you want a tip, you have to use coins - the game's in-game currency. You get these coins for solved levels and bonus games; but also by in-app purchase and by viewing advertisements.
Word Guru Download for iOS and Android
The word guru App for iOS comes from the developer Zentertain Ltd. It is interesting that there are various apps available as Word Guru for Android in the Google Play Store. There are z. B. Offers from developer names such as Word Connect Games and Word Puzzle Games. If you then take a look at the developer Zentertain, who offers the Word Guru App for iOS, their solution for Android is "Word blocks". But this is more of a modification of the word games to crossword puzzles. But the design is the same. If you want the Word Guru experience from iOS on your Android smartphone or tablet, you have to get Word Guru by Word Puzzle Games .
[appbox app store id1229075980]
[appbox googleplay com.wordgames.wordconnect.de]
[appbox googleplay com.wordgame.words.cross]
Advertising and in-app purchases
In the beginning there is not so much advertising. The more levels you complete and the more chapters you unlock, the more advertising is displayed. Mostly simple picture ads that you can tap away with an X in the corner, but sometimes also commercials lasting a few seconds. In addition, there is the possibility of increasing coin profits by watching advertising spots. If you want to earn extra coins, you are welcome to do so. In any case, this protects against in-app purchases in the long term.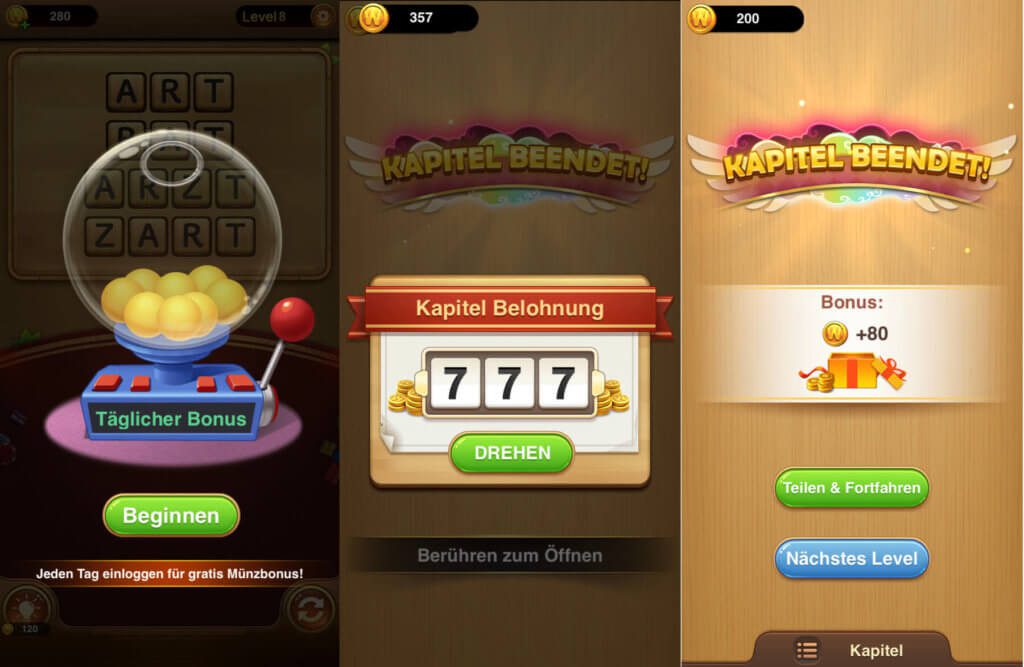 Because in the search for answers in Word Guru you are challenged more and more - and if you don't want to give up the game and your score, you could desperately buy Word Guru coins. Incidentally, this not only enables you to find answers and a faster solution in the individual levels - but also to switch off advertising and activate new designs when buying the right coin packs. So if you want full gaming fun without commercial breaks and puzzling for minutes to hours, you have to pay a lot of money. Here is an overview of the pricing: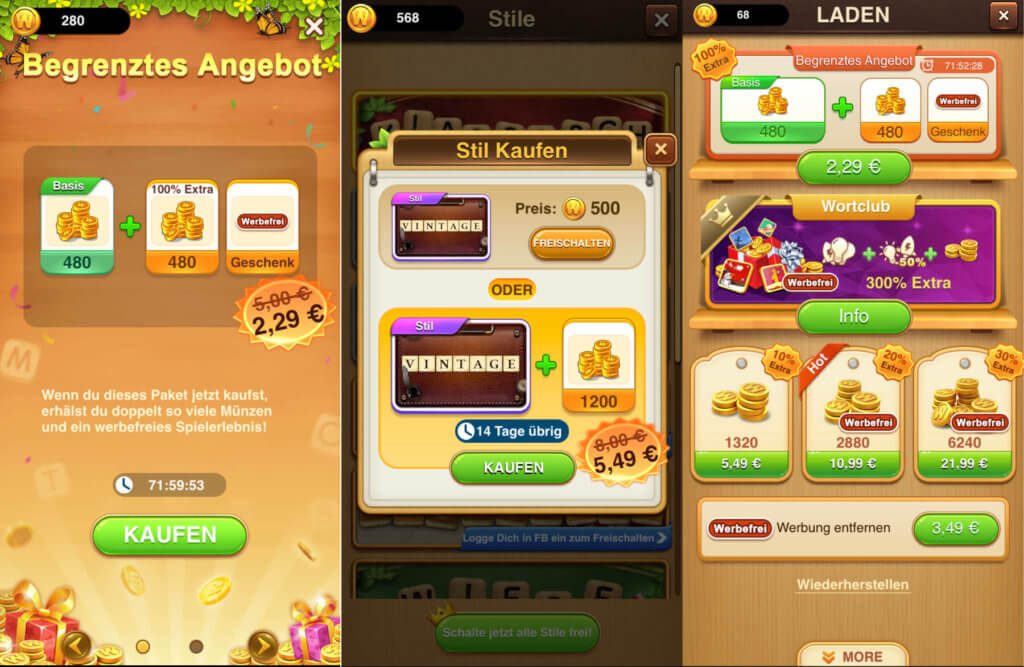 Conclusion on the game of words
When looking for exciting, but also educational games for smartphones and tablets, there is no way around Word Guru. The word search of the individual, increasingly difficult levels is fun and a brain-training pastime. If you take a break instead of the quick solution in Word Guru or just rearrange the letters to finally come to the solution, you don't need any extra coins. However, those who are impatient could be tempted to buy the in-game currency; the price for this is sometimes really steep.
Other apps for iOS and macOS: Apps and software category
After graduating from high school, Johannes completed an apprenticeship as a business assistant specializing in foreign languages. But then he decided to research and write, which resulted in his independence. For several years he has been working for Sir Apfelot, among others. His articles include product introductions, news, manuals, video games, consoles, and more. He follows Apple keynotes live via stream.