The Xiaomi ROIDMI EVE Plus is a vacuum cleaner robot with a wiping function, a combined charging and suction station and a special focus on pets. Not only should the suction power of 2.700 Pa ensure that animal hair is well absorbed. In addition to the washable mop, ten disposable mops are also included for certain types of dirt. The robot vacuum cleaner also has a HEPA filter and the station has a system for disinfection and odor neutralization. Whether dog, cat or other pets, the Xiaomi ROIDMI EVE Plus should deal with all accumulating dirt and stay clean itself.
Abbreviation: Click here to go directly to the product with Prime Shipping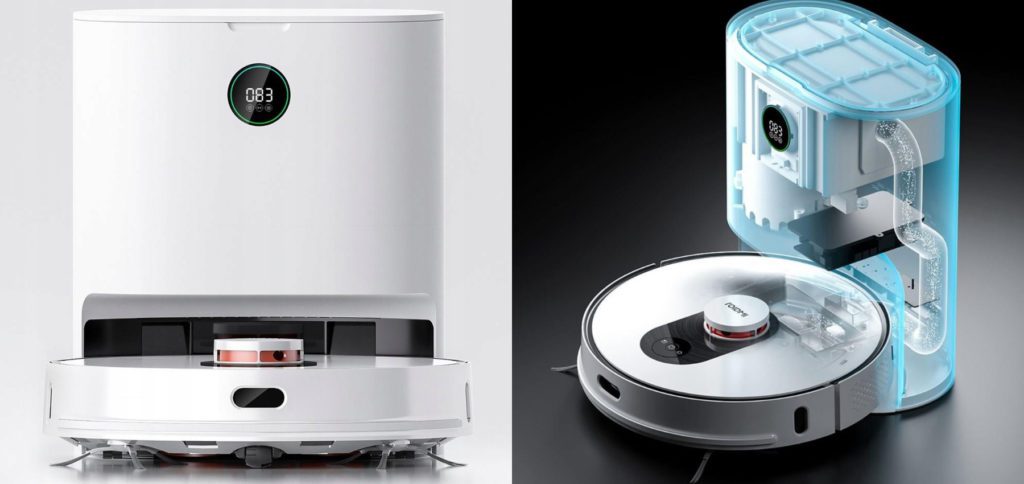 Xiaomi ROIDMI EVE Plus - Technical Specifications
So that you can get a first impression of the device and its accessories, I have summarized the most important technical data from the Xiaomi ROIDMI EVE Plus data sheet below. Please note that due to the focus on pet owners, this robot vacuum cleaner does not use a dust container, but replaceable dust bags that can be disposed of after a while.
Here are the data and information about the device:
Manufacturer: Xiaomi
Brand: ROIDMI
Model: EVE Plus
Device type: Robot vacuum cleaner with wiping function
Electronic accessories: charging and discharging station
Dimensions / weight of the robot: 9,8 x 35 x 35 cm / 3,6 kg
Dimensions / weight of the station: 35 x 35,8 x 17,5 cm / 2,7 kg
Suction power: 2.700 Pa
Brushes: two side brushes and one main brush
Main brush details: adapts to the height of the floor
Sensors for the environment recognition: LDS laser navigation for the room recognition, infrared sensors for the obstacle recognition, as well as left and right sensors against the approach of obstacles
Climbing ability: Comes over edges and door sills up to 2 cm high
Cleaning: Orientation on the long side of the room in order to have to change direction as few as possible for the required lanes
Area per battery charge: up to 250 m2
Battery life: 210 to 250 minutes
Battery charging time: approx. 4,5 hours
Nominal battery capacity: 5.200 mAh
Dust container: replaceable 3 liter bag
Water tank: 250 ml
Navigation:
App use: ROIDMI app for viewing the room plans, naming the rooms, setting up no-go zones, selecting one of the five cleaning programs, setting schedules and cleaning sequences, overview of the charge level of the battery, the last cleaning time and the area cleaned, etc. .
Automatic emptying: yes, at the charging station
Features of the charging station: Charge the battery and display the charge status, empty the dust bag, sterilize and reduce odors within twelve seconds, send data to the app
Scope of delivery: 1 Xiaomi ROIDMI EVE Plus, 1 charging and emptying station, 1 water tank, 3 dust bags, 2 side brushes, 1 mop, 10 disposable mops

Price on Amazon: 482 euros including Prime delivery
Price at Kaufland: 436 euros with free shipping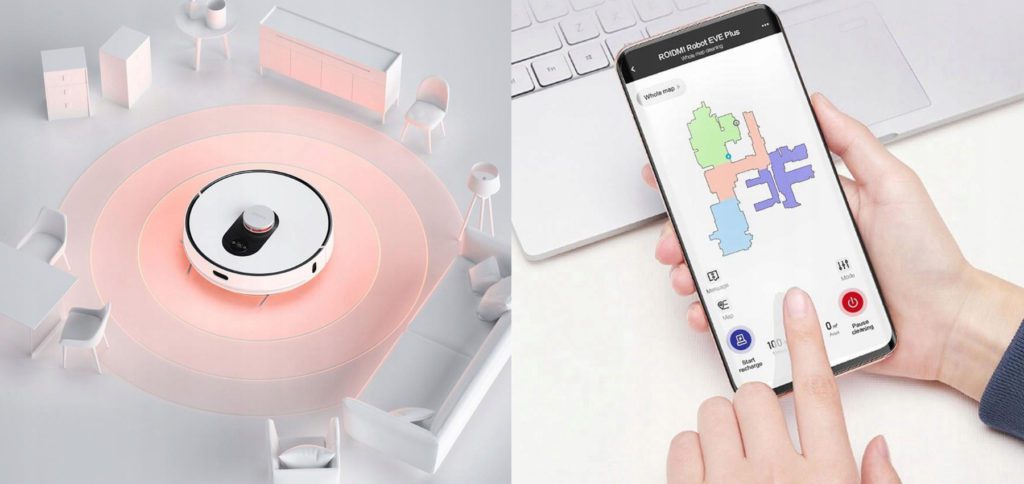 ROIDMI EVE Plus vacuum and floor mopping robot - summary of the features
The ROIDMI EVE Plus from Xiaomi is a vacuum cleaner and mopping robot designed for pet owners. Thanks to the loading, emptying and sterilization station, the replaceable dust bag can be emptied automatically. Dust, animal hair, lint and more are sterilized and the smell is also neutralized. A dust bag should be usable for up to 60 days. The ROIDMI EVE Plus vacuum robot can reach up to 5.200 m with one charge of the battery (250 mAh)2 clean.
Not only is a modern laser navigation system available for this, but the ROIDMI app for control and monitoring. To make the floors even cleaner and to remove dirt as well as the animal hair, a mopping cloth can be attached to the rear underside of the robot. This is supplied with water from the 250 ml water tank. There are several cleaning programs that can also be selected with regard to the respective noise level. So humans and animals are not unnecessarily disturbed by the device.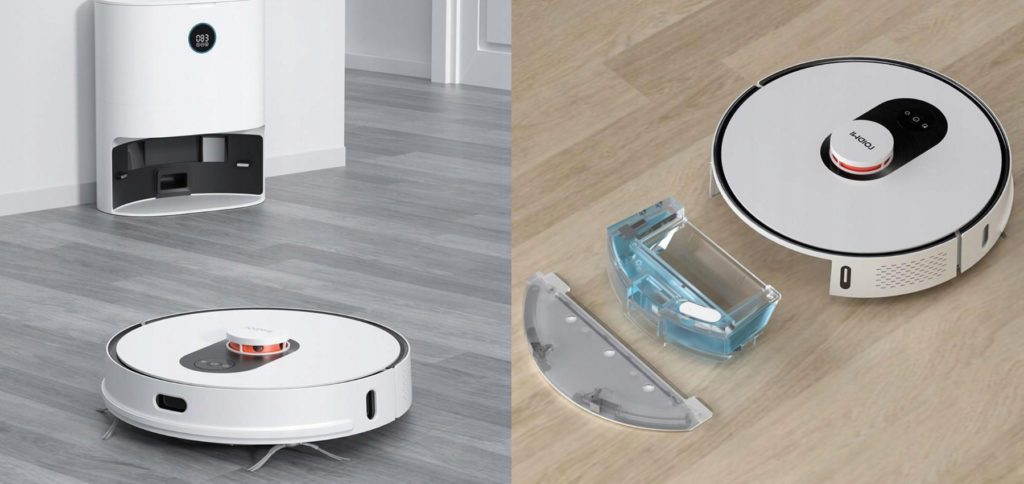 The smart route planning also ensures that cleaning is carried out quickly and efficiently. Instead of driving back and forth, the Xiaomi ROIDMI EVE Plus navigates logically through the apartment. Room plans for several floors can also be created and saved. Information on the battery charge level as well as the status of the dust bag and the charging station can also be called up via the app. In addition, different room names can be assigned for cleaning, no-go zones can be defined, cleaning processes can be planned and more.
The Xiaomi ROIDMI EVE Plus is a modern and well thought-out vacuum and mopping robot. Thanks to the filtering dust bag and disinfecting emptying station, it is well suited for households with pets - whether they are dogs, cats or other animals. The hair of guinea pigs, rabbits and the like can also be sucked up. In addition, the floors are mopped. The whole thing can be controlled and monitored via the app for the smartphone. Schedules and no-go zones help to carry out floor cleaning when it is least bothersome.
101,00 EUR
After graduating from high school, Johannes completed an apprenticeship as a business assistant specializing in foreign languages. But then he decided to research and write, which resulted in his independence. For several years he has been working for Sir Apfelot, among others. His articles include product introductions, news, manuals, video games, consoles, and more. He follows Apple keynotes live via stream.
The page contains affiliate links / images: Amazon.de