The yeedi 2 is a hybrid vacuum robot that has a vacuum cleaner function as well as a wiping function. The robot that cleans with up to 2.500 Pa suction power actually costs 299,99 euros, but can be purchased for only 14 euros until September 2021, 209,99. No voucher code is required for this; the discount is available directly without any further action on the Amazon product page. Prime shipping with fast delivery is included for members. Further information on the device, control via app and other features can be found below.
Update 22.11.2021: You can still get several Yeedi vacuum robots at great discounts on Amazon until December 5th. Here is the overview of offers: Yeedi vacuum robot cheaper: These are the discounts in Black Week 2021 - Update end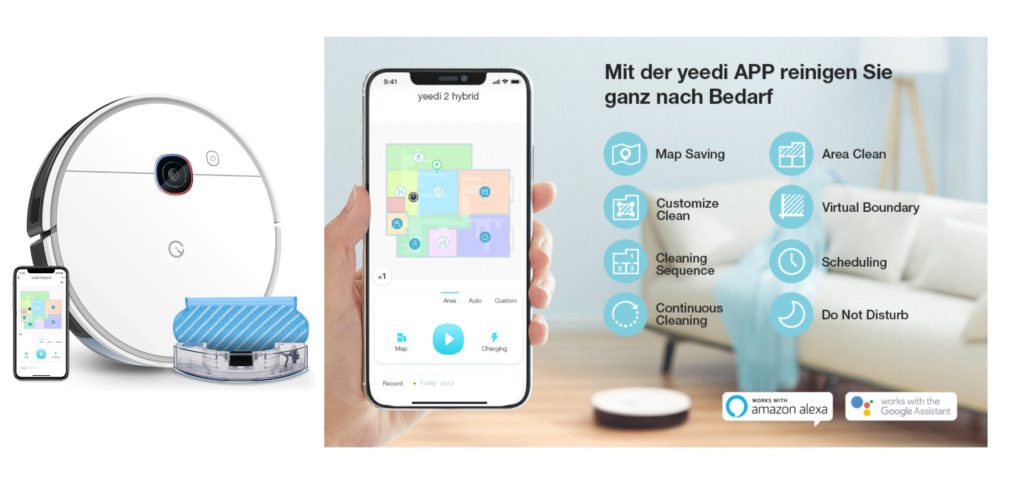 Details on the yeedi 2 vacuum and mopping robot
The yeedi 2 robot vacuums and mops the floor at the same time. A space map is created for an efficient route. You can see the overview created in this way in the app offered by the manufacturer and use it to control the vacuum robot. The 5.200 mAh battery provides up to 200 minutes of running time with one charge. You have the option of choosing three programs for cleaning the floor, which affect the suction power, the speed of the robot and the rotations of the brushes: Standard, Max and Max +. The model should also be able to cope with animal hair and small stones. Various cloths are included in the scope of delivery for the wiping function.
yeedi 2 vacuum cleaner robot with wiping function and discount
The combination of vacuum cleaner and robot mop for a price of around 210 euros is a pretty good offer. On the Amazon product page linked above you will find further technical data, various product images and other details as well as ratings and reviews from users. The yeedi 2 has an average rating of 4,5 stars. Of the 810 reviews to date, 68% are 5-star and 20% are 4-star ratings. So he seems to be doing his job according to expectations; all the better that you can still buy it until September 14, 2021 with a 90 euro discount;)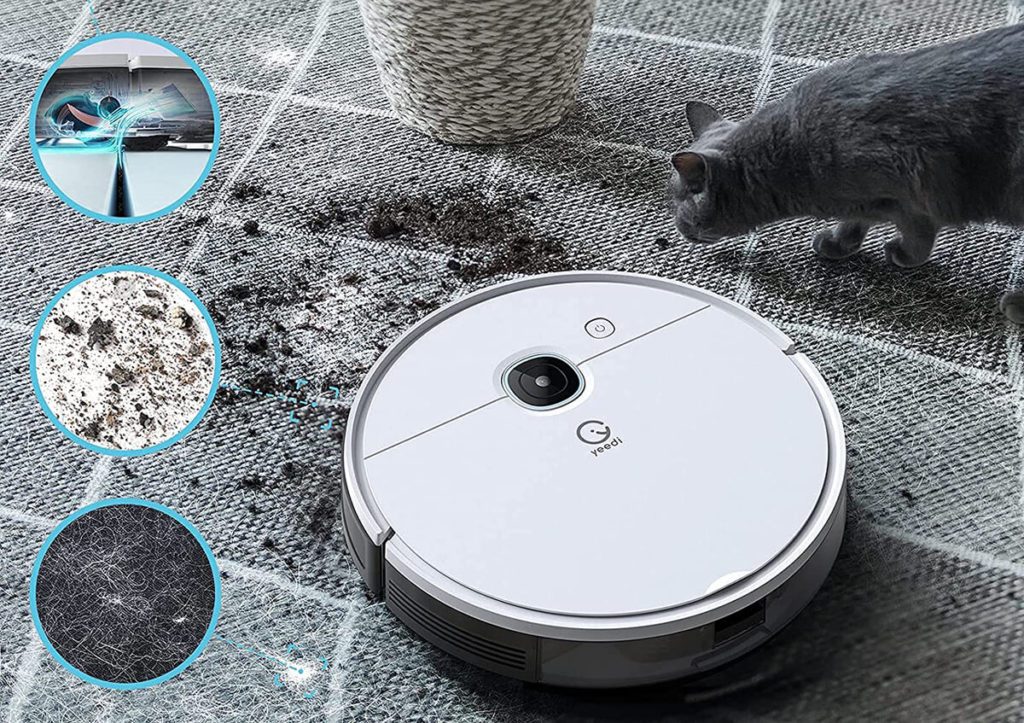 Tip: yeedi vac max vacuum cleaner robot with 3000 Pa suction power on offer
In addition to the yeedi 2 hybrid, the manufacturer yeedi also has a vacuum cleaner robot in its portfolio, which you can currently buy on Amazon with a discount of 95 euros: the yeedi vac max. The vac max also has a wiping function, which is limited to the usual damp cloth under the vacuum cleaner. If you are looking for a powerful mopping robot, you should get it yeedi mop station look at. This has rotating mopping inserts, which actually wipe the floor with pressure.
The special thing about the yeedi vac max is without a doubt its immense suction power of 3000 Pa (most other vacuum robots have about 2000 Pa). Due to the high suction power, it is perfect for households with cats or dogs, where there is a lot of animal hair due to "operational reasons".
The yeedi vac max offer runs until September 12, 2021. To use it, visit the Product page of the yeedi vac max, click on the coupon and enter the following voucher code at the checkout: RQEE8OSW. The bottom line is that you should end up with a retail price of 254,99 euros.
After graduating from high school, Johannes completed an apprenticeship as a business assistant specializing in foreign languages. But then he decided to research and write, which resulted in his independence. For several years he has been working for Sir Apfelot, among others. His articles include product introductions, news, manuals, video games, consoles, and more. He follows Apple keynotes live via stream.
The page contains affiliate links / images: Amazon.de